April 24, 2017
I braved clouds of pollen last weekend and managed to mulch the flower beds and transplant some black-eyed Susan and Russian sage. I even sowed some cosmos seed ('Sea Shells' and 'Cupcake Mix'), orange cosmos and some other new (to me) flower that I'll tell you about if it comes up. :-) Please share Floridata with your friends and be good and grow. Jack
New Plant Profile
Our newest Plant Profile is of the notorious Japanese knotweed (Fallopia japonica), a large, fast-growing perennial species that was imported into the US as an ornamental species in the late 1800's. Since then the plant has spread across the continent, disrupting a wide range of plant communities in all but the southernmost states. Japanese knotweed is extremely persistent and nearly impossible to eradicate. Read more about this weedy species that is found in USDA Zones 3-8.
More Invasive Species
I've known this species since I was a kid when I used it to make "camps" under its leafy domes. It was everywhere but I didn't learn its name until this summer. In the 50's and 60's a "miracle shrub" was advertised in the Sunday newspaper comics section. It was also promoted by the USDA as a fast-growing species for controlling erosion. It's name is Amur or Chinese honeysuckle (Lonicera maackii) and now it is everywhere. I think of it as the northern analog of The South's infamous kudzu vine (Pueraria lobata). Click here to read more about this beautiful but extremely invasive exotic shrub that grows (don't plant it!) in USDA Zones 2-8.
Saltcedar (Tamarix ramosissima) is a robust deciduous tree with tiny scale-like leaves and showy pink flowers in late summer. Saltcedar is an aggressive grower, even on soils so severely impacted that virtually no other plants will grow. Unfortunately it has escaped cultivation in some places to be become an invasive pest in parts of the southwestern United States. Saltcedar is hardy in USDA Zones 3 - 8. where it is occasionally used in screens and hedges (where it isn't invasive). Read more »
Salsa Garden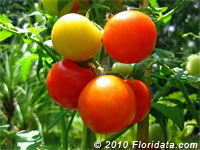 Stick a few tomato (Lycopersicon lycopersicum) plants in the ground (or in containers) and grow your own. Home grown vegetables taste better, save money and are good for the environment and your health! Plant a few of the vegetables in this list and you will enjoy your own fresh salsa all summer long:
For the Butterflies
The butterfly bush (Buddleja davidii) is a long-time garden staple whose cultivars come in a range of colors from white to pink to purple - and they really are attractive to many kinds of butterflies. However the species is an invasive pest in some regions so check locally to determine if it's OK to plant where you live. We've added this warning to our Profile. Here are a few more flowers that butterflies visit at this time of year:
Spring Flowering Bulbs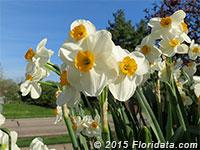 The paperwhite daffodils (Narcissus spp.) are in bloom here in the Cincinnati area at mid-spring. For more on spring flowering bulbs, read Ray's articles about The Daffodils and history of The Tulips then check out Floridata's profiles of these and other spring-blooming favorites:
Flowering Plants of Hawaii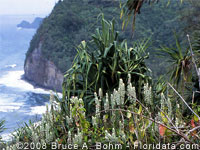 The Hawaiian Islands are home to an array of native plant species that has attracted the attention of botanists, naturalists, horticulturists and world travelers ever since Europeans first visited the islands near the end of the 18th century. Read more »
You'll find more links on our Articles and Resources page.
Welcome to our New Site!
All of our articles and resource pages can be accessed from the Articles and Resources link is in the Site Menu at the upper right hand corner of each page. Some of the pages in our archive will be temporarily unavailable until they are reformatted and re-posted here on the new site. Sorry for the inconvenience.