March 26, 2017
After weeks of delay due to freezing temps and rain, I finally was able to get out and garden on Saturday. I even planted a little container garden of nasturtium and calendula for Mom's condo balcony. Spring at last! Please visit Floridata often, tell your friends about us and be good and grow. Jack
Shady
Bear's breeches (Acanthus mollis) produces large flower stalks in spring but it is more famous for its large leaves. Acanthus foliage is reproduced in the ornamentation of classical Greek artwork and in the capitals of Corinthian order columns. Some of these shade loving species have showy flowers but these are nice to grow just for the attractive foliage: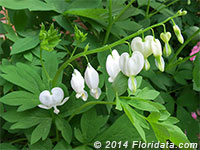 Pink-flowered bleeding hearts (Dicentra spectabilis) are more common, but this white form is also readily available at garden centers. The handsome foliage is a bonus. Click to download a large version (800x600).
Spring Blooming Woodies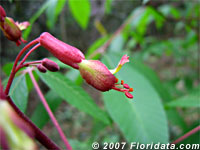 The red buckeye (Aesculus pavia) is a delightful little tree (or large shrub) that is native to the southeastern United States. They bloom in spring, taking over the show as the azaleas and dogwood flowers are fading. Click here to download a large version (800x600) of this native (to the southeastern USA) beauty and visit the Red Buckeye Profile to see others.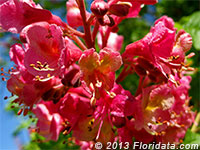 The red horsechestnut (Aesculus x carnea) is a very showy spring bloomer and popular ornamental tree. Red horsechestnut (Aesculus x carnea) is a hybrid species resulting from a (presumed) chance cross between the shrubby red buckeye (Aesculus pavia) from SE North America, and common horsechestnut (A. hippocastanum), a much larger tree from Europe. Click here to download a large version (800x600) of this flamboyant flower and read more in the Red Horsechestnut Profile.
Here are some other spring-blooming shrubs that are natives of the SE United States:
Annual Re-seeders
The opium or bread poppies (Papaver somniferum) bloom at this time of year. The opium poppy is an annual that must reseed itself each season so the ground must remain exposed and not mulched over. If you don't smother the seeds and the poppies will return year after year! Click to download a large version (800x600) of the pretty purple poppy to display on your computer desktop.
Spring Flowering Bulbs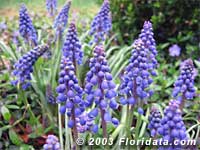 I spied my first bunch of grape hyacinths grape hyacinths blooming on the first day of spring and, despite the cold snap, even a couple of early tulips were blooming already. Read Ray's articles about The Daffodils and history of The Tulips then check out Floridata's profiles of these and other spring-blooming bulbs:
Flowering Plants of Hawaii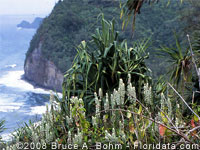 The Hawaiian Islands are home to an array of native plant species that has attracted the attention of botanists, naturalists, horticulturists and world travelers ever since Europeans first visited the islands near the end of the 18th century. Read more »
You'll find more links on our Articles and Resources page.
Welcome to our New Site!
All of our articles and resource pages can be accessed from the Articles and Resources link is in the Site Menu at the upper right hand corner of each page. Some of the pages in our archive will be temporarily unavailable until they are reformatted and re-posted here on the new site. Sorry for the inconvenience.