October 8, 2016
Despite the hurricanes, I miss the south and my place in North Florida. I'm wishing the best for those in the storm zone and praying that the electricity comes back on for everyone as soon as possible. Stay safe and be good and grow. Jack
New Plant Profile
Trident maple (Acer buergerianum) is a rather small, wide spreading, deciduous tree, reaching up to 20-30 ft (6-9 m) tall with a similar spread. The handsome foliage turns orange and red in autumn. Leafless in winter, the exfoliating bark reveals multiple shades of brown and gray and makes this little specimen tree appealing in all seasons. Trident maple makes a handsome specimen in a small landscape and for outdoor container culture, including bonsai in USDA Zones 5 to 9. Read profile . Read about these other maple (Acer) species profiled at Floridata: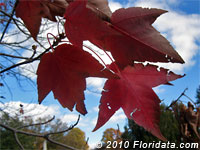 The swamp or red maple (Acer rubrum) is a native of the eastern United States. It and it's named cultivars and hybrids are popular trees for landscape because they are readily available, easy to grow and colorful autumn leaves. The cultivar in this picture is called 'Embers', it was selected for it particularly pretty dark red fall foliage.
The field or hedge maple (Acer campestre) is a slow growing small deciduous tree with a dense rounded crown. In its native British Isles, this species grow as part of the tall hedgerows along country lanes and so is also commonly called hedge maple. Read more about this slow-growing tree for use as specimens, hedges and screens in USDA Zones 4-8.
Freaky Fall Fruits
From a distance the camphor tree (Cinnamomum camphora) is a handsome species but it suffers from a number of problems and should not be cultivated in the US. It produces large crops of seeds - the reason it is "invading and disrupting native plant communities in Florida." Read more »
Tung trees (Aleurites fordii) were once grown commercially in parts of the Deep South. Tung oil, extracted from the "nuts", was an important industrial commodity that lost its importance with the invention of synthetic polymers and plastics. Tung trees have escaped cultivation and are sometimes seen growing in colonies along fencerows in locations where they were once cultivated. Read more »
The tallow tree (Sapium sebiferum) is a showy little deciduous species that produces waxy fruits that are flammable! Planted as an ornamental in some warm-winter climates, tallow tree proved to be an invasive pest. Though the leaves may be pretty in autumn but it is a noxious weed in most places and should not be planted. Read more »
Here is a collection of links to profiles of a sampler of species that are causing disruptions of native plant communities in both northern and southern climates (sadly, this list is far from complete):
Fine Fruit
There are dozens of Japanese persimmon (Diospyros kaki) varieties and all are delicious (providing they are ripe)! I have one of these in my yard in Florida and they are ripening right about now. Click to download a large version of the 'Maki Jiro' image or visit the Japanese persimmon profile's Image Gallery to see other varieties.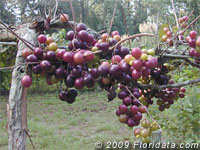 At this time of year down in Florida, I enjoy my neighbor's meticulously maintained planting of muscadine (Vitis rotundifolia) grapes - mostly just by looking but sometimes by tasting. I can't give you a taste but if you click here to download a large version (800x600) you can enjoy seeing this beautiful bunch of muscadines on your desktop.
Autumn Leaves
Sweetgum (Liquidambar styraciflua) is a handsome North American native that tolerates a range of soil conditions (including wet conditions), is seldom bothered by pests, and its leaves make a colorful autumn display - even in the Deep South. However, the spiny dangleball fruits are a bummer to clean up and even worse to step on in bare feet. One exception is the variety 'Rotondifolia' in the photo - it is a sterile variety (no dangleballs!) with unusual rounded leaves.
Depending on weather, the little southern turkey oak (Quercus laevis) will have brilliant scarlet leaves one autumn and dull red-brown leaves the next. But there are many other species that gardeners in the Deep South can plant that will produce spectacular fall foliage displays most every year. More tree species with colorful autumn leaves for The South:
Visit Floridata's Master Plant List with filter set to Fall Foliage Plants to see more species whose leaves turn in autumn.
Flowering Plants of Hawaii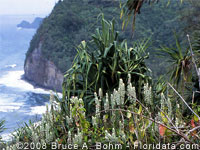 The Hawaiian Islands are home to an array of native plant species that has attracted the attention of botanists, naturalists, horticulturists and world travelers ever since Europeans first visited the islands near the end of the 18th century. Read more »
Welcome to our New Site!
All of our articles and resource pages can be accessed from the Articles and Resources link is in the Site Menu at the upper right hand corner of each page. Some of the pages in our archive will be temporarily unavailable until they are reformatted and re-posted here on the new site. Sorry for the inconvenience.