November 22, 2015
Happy Thanksgiving! I miss my turkeys and my place down in Florida but I'm thankful to be back home with my family and very thankful to have our new Floridata up and running. Our Thanksgiving story about Turkey Frank made the transition from the old site and reading it is sure to make you thankful or something. Have a safe and fun holiday weekend and be good and grow. Jack
Happy Thanksgiving
Bonita Belle, The Bronze Breasted Beauty, is a female turkey who once lived next door to me. She liked stale bread, walks in the rain and pecking camera lenses when being photographed. I'm not sure what became of her but I fear the worst. Click to download a large version of Bonita Belle a big breast-of-bronze beauty to enjoy on your computer desktop <
New Plant Profile!
Chestnut oak (Quercus prinus) is a slow growing tree that is native to the eastern United States. This species produces edible acorns, is a source of lumber and tannins extracted from the bark are used in dyes and for processing leather. Chestnut oak is drought tolerant, has colorful autumn foliage and is gaining popularity as a landscape items in Zones 4-8. Read more »
Chestnut oak is the 23rd oak species to be added to Floridata. You can about The Oaks (Quercus genus) in general in the Northern Red Oak (Quercus rubra) Profile.
Newest Plant Profiles
Unusual Plants
We're proud to have Floridata Profiles of many unusual plants that you're not likely to see on other web sites - the woody goldenrod (Chrysoma pauciflosculosa) (great name!) is one of these. We have profiles of favorite garden, landscape and edible species that you might be looking for but we profile many others because they have special talents, smells, uses, habits or hilarious names.
Here are a few of my favorite unusual plants that Floridata is proud to profile: dodder (parasitic vine resembling D. Trump's hair), resurrection fern (these plants regularly "die" and return to life), downy dangleberry is similar to the blueberry but with funnier name and the Venus flytrap (funny name and carnivorous!)
Here are some plants with special characteristics. To poison some fish, try sap from the pencil tree. If you want to smell some fish, just crush the leaves of chameleon plant or Florida anise shrub. For the malodorous stench of vomit, try smashing ginkgo tree fruits and for rotten meat, take a sniff of the carrion flower.
These plants have more useful characteristics. Shampoo your dirty hair with juice from a ginger called awapuhi, wash your filthy hands with soapberry, and cleanse your bowels with bitter aloe. Add comfrey leaves to your bath for soft, smooth, and silky skin. Mayapple will eliminate intestinal worms and (maybe) even tumors and (for sure) the fruits can be made into jelly.
The oil of the castor bean will also purge your gut but protein from the same bean will kill you! You can soothe your gout with autumn crocus and cool your inflamed prostate with saw palmetto fruits. Best of all, rue will defend you against witches and evil spells and goto kola will help you achieve enlightened and live a very long time!
Yuccas
The Spanish dagger (Yucca gloriosa) is the perfect plant for those hot dry places where not much else will grow (USDA Zones 7-10). Unlike its viciously armed relative the Spanish bayonet (Yucca aloifolia), Spanish dagger (aka mound lily) has leaves that are softer and less stiff and that lack the sharp spine at the tip. Gardeners in cold winter Zones can also enjoy the tropical look of these plants outdoors with another relative, the hardy Adam's needle (Yucca filamentosa) and indoors with spineless yucca (Yucca elephantipes), another tender species, often grown as a houseplant.
Spring Flowering Bulbs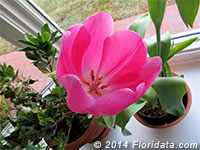 It's not too late to plant spring bulbs - and you may be able to pick up some bargains this late in the season. Save a few of your new bulbs to force into bloom over the winter. I grew beautiful pink 'Don Quixote' tulips indoors last winter. It took about 7 weeks for them to bloom but the brilliant blossoms were worth the wait! Click to read A Tulip History. More spring-flowering bulbs that are planted in autumn (now!):
Welcome to our New Site!
All of our articles and resource pages can be accessed from the Articles and Resources link is in the Site Menu at the upper right hand corner of each page. Some of the pages in our archive will be temporarily unavailable until they are reformatted and re-posted here on the new site. Sorry for the inconvenience.