August 28, 2016
I started work on the next generation of Floridata. We're using a stack of new technologies that will let us build a secure and fast site that will run smoothly on desktop, smartphones and whatever other new devices that come along in the future. I am hoping that by the end of the year both the new technologies and our new app will be ready for testing. Wish us luck! Please visit Floridata often this fall, tell your friends about us and be good and grow. Jack
New Plant Profile
Our newest profile is of the Virginia pine (Pinus virginiana), a medium size evergreen tree that is a native of the Appalachian Mountains, west to Missouri and Illinois. It is drought tolerant and can survive on poor, sandy or rocky soils. Read more about the Virginia pine, a rugged evergreen for landscape use, wildlife and natural gardens and reclamation projects in Zones 4-8. Floridata has a number of pine species profiles, here are just a few that might be familiar:
The Glories of Ipomoea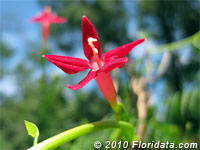 Steve lets a few cypress vines Ipomoea quamoclit) grow on his bean trellis just because they're pretty with finely cut feathery foliage and showy red blossoms. They always seem to be showiest at this time of year. Click to download a large version (800x600) of this particularly pretty cypress vine flower to display on your computer desktop. Read more...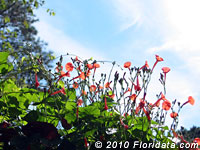 The red morning glory, also know as red creeper (Ipomoea coccinea), is another relative of the familiar blue morning glory (Ipomoea tricolor). The scarlet creeper blooms in late summer, producing showy flowers that are very attractive to butterflies. Click to download a large version (800x600). Read more about Ipomoea :
Cool Weather Leafy Vegs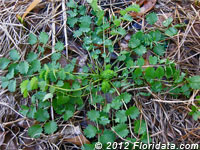 Salad burnet (Sanguisorba minor) is an evergreen perennial that grows in a circular mound. Burnet stays green in the face of frost, survives freezing, and can be harvested until covered with snow. Use the leaves in salads or on sandwiches. The taste usually is likened to that of cucumbers. Autumn is a perfect time to grow unusual leafy green vegetables like these: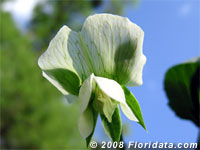 Garden peas a(Pisum sativum) grow well in cool weather too. Peas are a source of a very high quality protein and they are also sweet and delicious. The flowers and shoots are tasty (and trendy!) too - so you might want to grow them even if you don't like the actual peas!
Use the Edible Plants filter on the Features drop down menu on Floridata's Master Plant List to see them all.
Summer Survivors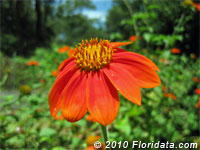 I photographed this handsome Mexican sunflower (Tithonia rotundiflora) growing at the edge of Steve's vegetable garden. The plants were so big that branches were breaking from stem under their own weight. I hope I remember to grow these next year. Click to download a large version (800x600) this brilliantly blazing blossom.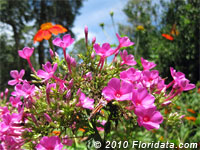 Adjacent to Steve's sizzling scarlet Mexican sunflower blazes a magenta-flowered garden phlox (Phlox paniculata) cultivar. The whole area swarms with butterflies and bees stirring up a riot of color that's impossible to ignore. Click to download a large version (800x600).
Flowering Plants of Hawaii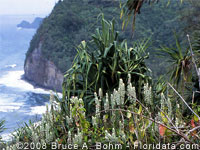 The Hawaiian Islands are home to an array of native plant species that has attracted the attention of botanists, naturalists, horticulturists and world travelers ever since Europeans first visited the islands near the end of the 18th century. Read more »
Welcome to our New Site!
All of our articles and resource pages can be accessed from the Articles and Resources link is in the Site Menu at the upper right hand corner of each page. Some of the pages in our archive will be temporarily unavailable until they are reformatted and re-posted here on the new site. Sorry for the inconvenience.