I added some stuff to our Plant Profile pages that makes them look cooler when shared on Facebook - something that I hope you will do! Please visit often, tell your friends about us and be good and grow. Jack 8/31/15
The Salvias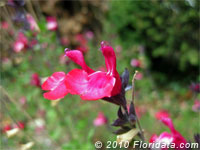 Autumn sage (Salvia greggii) is a desert species that prefers warmer climates (USDA Zone 7-9). This handsome evergreen perennial blooms in late summer and fall. Red, pink and white flowering varieties are available. Autumn sage is very drought tolerant, thrives in lean soils and is a favorite for butterfly gardens!
The forsythia sage (Salvia madrensis) is a huge perennial plant with foot-long, bright yellow flower clusters that appear in late summer and early fall. This sage is hardy to Zone 7 and may reach heights up to 10 feet in frostfree climates. Here is a list of links to profiles of other sages (a common name for species in the genus Salvia) in cultivation:
The Mexican bush sage (Salvia leucantha) is another fall blooming perennial that is commonly grown in Zone 8-10 gardens. It too is a large plant, growing up to 4 feet in height, and often surrounded by clouds of butterflies when in bloom!
Cool Weather Leafy Vegs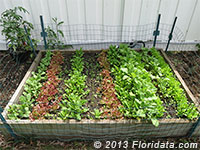 Because I helped him set it up, I have grazing privileges at my brother's raised vegetable garden. We're clearing worn out squash plants now, so cool-weather leafy green vegetables can soon be planted. Even in such a small space, it's possible to grow a surprising quantity of fresh vegetables - especially in autumn when milder tempertures set in. Last spring the bed hosted several types of lettuce (Lactuca sativa ) (in photo): 'Red Sails' leaf and Buttercrunch head lettuce were the family favorites. Here are links to more leafy greens that you might enjoy in your fall garden:
Use the Edible Plants filter on the Features drop down menu on Floridata's Master Plant List to see them all.
New! Plant Profiles
Welcome to our New Site!
All of our articles and resource pages can be accessed from the Articles and Resources link is in the Site Menu at the upper right hand corner of each page. Some of the pages in our archive will be temporarily unavailable until they are reformatted and re-posted here on the new site. Sorry for the inconvenience.
I completed reformatting two more Gardeners' Journals last week and reposted the links below. These two entries touch on a range of topics including ducks, Danes and deadman's fingers fungus as well as frosts and freezes, ponds, palms and a feral piglet - so you will probably want to read them, especially if you are at work and really bored.