July 1, 2016
Happy 4th of July! Have a fun and safe holiday weekend - drive safely, be careful around fireworks and don't forget the sunscreen! Please visit us often, bring your friends and be good and grow. Jack
New Plant Profile
Chinese forget-me-not (Cynoglossum amabile) is bushy little plant with coarse leaves and sky-blue flowers that blooms at this time of year. Use it in mixed borders, annual flower beds and along garden paths. It is frequently planted in wildflower meadows where it can self-seed and sometime naturalize under preferred conditions. Read more about this biennial (that blooms in its first year) that grows sun to part shade in USDA Zones 5-8.
Lilies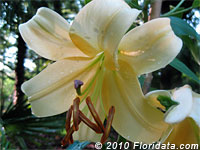 Last week's storms knocked down the last of the blooming 'Honeymoon' lilies (Lilium hybrids) which is sad because they are one of my favorite plants to photograph. This is a picture of a flowers from several years ago - despite being transplanted to a new bed, the Honeymoons once again delivered strong stems loaded with buds and big beautiful blossoms. Download a large version (800x600) of this lovely lily.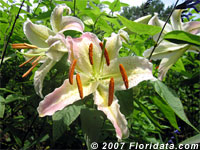 I had a trio of these 'Girosa' lilies (Lilium hybrids) blooming up on The Hill beneath a fast growing deodar cedar (Cedrus deodara). I had forgotten all about them so it was a treat to find them at all, much less in bloom! Click here to download a large version (800x600) of these lovely lilies to display on your desktop.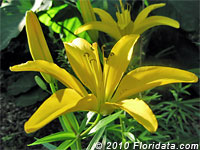 'Pollyanna' is a member of the Asiatic Group of hybrid lilies (Lilium hybrids). They're among the earliest blooming of the hybrid lilies producing lots of flowers on long stems that are perfect for cut flower arrangements. Download a large version to display one of the Pollyanna lilies on your computer desktop.
Flowering Woodies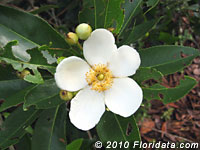 One of the many things I miss about back home in North Florida is seeing the statuesque loblolly bay (Gordonia lasianthus) trees back in the swamps and wetlands in bloom at this time of year. This American native tree produces white waxy blossoms that are easy to see, held against the tree's handsome evergreen leaves. Take a look at a few more of summer's fragrant-flowered woody species:
Kitchen Herbs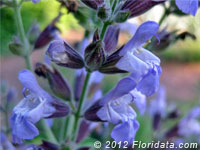 I had never seen a common (culinary) sage (Salvia officinalis) bloom before and assumed that its flowers would be small and/or interesting. As it happens they are big and blue and I'll never pull the buds off my sage plants again. Click to download this a large (800x600) version of this image. Here are a few more showy culinary herb that are pretty and good to eat:
Butterflies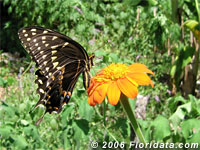 The Mexican sunflower (Tithonia rotundiflora) is an easy to grow annual butterfly magnet, attracting beauties like this Palamedes Swallowtail. I found a package of seeds last weekend and planted few in the back. I hope it's not too late in the season for them to bloom but I'm pretty sure the local butterflies will be able to enjoy them for at least a few weeks in early fall. In this photo is a handsome palamedes swallowtail stopping by for a snack on plants in my North Florida garden. Click to download a large version (800x600). Here's a list of a few butterfly-attracting plants in bloom at this time of year: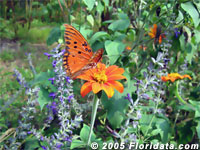 The gulf fritillary is another frequent visitor to Mexican sunflowers (Tithonia rotundiflora). Click to download a large version (800x600) of this digitally manipulated image.
For the Hummers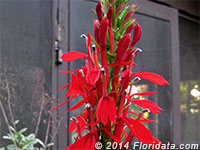 Steve grows a beautiful patch of cardinal flower (Lobelia cardinalis) in his garden. This showy native of eastern North America has showy flowers that will attract hummingbirds from all over the neighborhood! Here are a few more Profiles of Plants that attract hummingbirds: