May 19, 2016
Please help us promote Floridata and increase visitor traffic by posting links to our pages and using the "sharing" icons (Facebook, Twitter, etc.) to send Floridata pages to your friends. Visit us often and be good and grow. Jack
New Plant Profile
Great white trillium (Trillium grandiflorum) is a spring blooming perennial wildflower that is native to the forests of eastern North American. Composed of three whorled leaves, three white petals and three sepals, this wildflower is beloved for its simple, elegant beauty. Read more about this superstar of springtime wildflowers for woodland gardens and other shady spaces in USDA Zones 4-8. Here's a list of a few other woodland wildflowers to look for at this time of year:
A Pair of Peonies
In my Kentucky neighborhood the tree peonies, also called moulan (Paeonia suffruticosa), have just finished blooming. The spectacular blossoms didn't last but a week after being blasted with a couple strong strong wind and rain storms. I saw one with deep red flowers that I seriously need one of... Download images from the Tree Peony Image Gallery
The more familiar common or Chinese peonies (Paeonia lactiflora) beginning blooming just as the tree peonies are finishing up. The double-flowered varieties are very pretty but I like the big singles the best. Download images from the Peony Profile (click the Image Gallery button).
Summer Edibles
Some vegetables grow best in cool weather, others like it hot. Many of our favorite edibles are grown in summer like tomatoes and cucumbers. More edible species to grown in your summertime garden:
Shrubs for Shade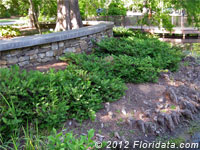 The Japanese plum yew (Cephalotaxus harringtonia) is an interesting evergreen shrub with several distinct forms. I saw this low-growing cultivar called 'Prostrata' planted as a shade-tolerant ground cover at the edge of a small pond where it helped keep things neat by "swallowing" litter and small pieces of debris. Here's a sample list of links to other shade-tolerant shrubs that might look good in your landscape:
Hydrangeas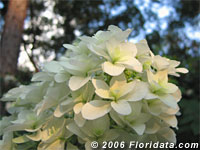 At this time of year we enjoy big beautiful clusters of blossoms on three species of Hydrangea. In the photo is oakleaf hydrangea (H. quercifolia) which is blooming now in my Kentucky neighborhood. The bigleaf(aka French) hydrangeas (H. macrophylla) are blooming too - their big pompom or lacecap flower clusters in shades of blues and pinks, stand out in any landscape. Like the oakleaf, the paniculate hydrangea (H. paniculata) is an American native species, however it blooms later in the season around mid-summer (the cultivars 'Limelight' and 'Pinky-winky' are two to look for).
Woody Groundcovers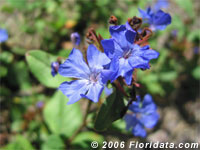 The false plumbago (Ceratostigma plumbaginoides) started blooming this week. This low growing perennial is every bit as pretty as the true plumbago (Plumbago auriculata ) and and is much hardier (it grows in USDA Zones 5-9). Click to download a large (800x600) version of this blue beauty for your desktop. More species to use for large-scale groundcover: