Happy weekend! I switched our domain name over to the new site last weekend. One unfortunate side-effect of re-engineering and moving the site is that thousands of links into our site from other will now no longer work. Please spread the word that we have moved and links to our content pages will need to be updated. I regret this and apologize and promise to not change again for another 19 years! I appreciate everyone's patience while we build a bigger and better Floridata. Please visit often to see what's new, tell your friends about us and be good and grow. Jack 7/30/15
Summer Bulbs, Tubers, etc.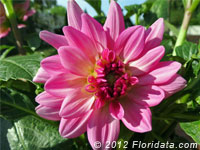 We have a couple of these 'Gypsy' dahlias (Dahlia spp.) growing in large containers on the patio. They've produced flowers continually since spring. Last month I began regularly apply liquid fertilizer and the plants have grown to 2 feet in height (this cultivar can grow to 4 feet!) and are loaded with flower buds!
Mandevilla / Dipladenia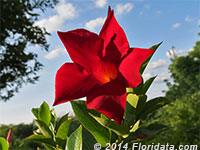 I'm growing one of these beautiful little 'Rio Deep Red' Dipladenia vines in a container this year. Mandevilla (Mandevilla spp.) is a tropical vine but they are now being offered in all zones and grown as annuals. The Giant White Mandevilla (Mandevilla spp.) is an offering from Monrovia Nursery as part of their Sun Parasol® series (below).
The mandevillas are just one of several tropical and semi-tropical species that are being offered by vendors in frosty climates where gardeners enjoy these showy beauties as annuals grown just for one season (or nurtured indoor until the following spring. Here are few to look for in a store near you - where ever you may garden: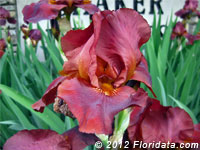 All About Iris
With about 200 different species scattered worldwide, gardeners probably know fewer of these flowers than any other popular group. It's all because of the intense interest in just a few of the species, [read more »]
New Plant Profile
Mountain laurel (Kalmia latifolia) is an evergreen shrub that produces large clusters of showy cupped-shaped flowers in shades ranging from white to pink to almost crimson. Despite its name, mountain laurel also grows from the Gulf of Mexico coastal plain north to New Brunswick, Canada. A number of mountain laurel cultivars are available, many are of compact stature that fit well into smaller landscapes and all produce spectacular springtime blossoms. Use mountain laurel in partially shaded areas as specimens and mixed shrub plantings and woodland gardens in USDA Zones 4 - 9 read about it here.
New! Plant Profiles
Welcome to our New Site!
All of our articles and resource pages can be accessed from the Articles and Resources link is in the Site Menu at the upper right hand corner of each page. Some of the pages in our archive will be temporarily unavailable until they are reformatted and re-posted here on the new site. Sorry for the inconvenience.
I'll put links to recently re-posted articles here on the Home page. Several years ago I wrote a series called A Gardener's Journal and I'm reposting them all as I get them re-formatted. Here are the first two: July 2001 and August 2001. There is also a re-post of Ray's The Daylily, A Perfect Perennial as well as the 75+ articles of Ginny's series The Transplanted Gardener.