March 23, 2017
Spring is here and it is finally warming up in my Northern Kentucky neighborhood. Many of the flowering ornamentals took a beating from the string of hard freezes we suffered, but from here on out I think everything will be growing fine! This will be my first weekend in the garden this season and I'm celebrating by planting a new northern red oak tree - I hope you have fun plans for your weekend too. Please visit Floridata often, tell your friends about us and be good and grow. Jack
New Plant Profile
Ironweed (Vernonia noveboracensis) is a large herbaceous perennial that is native to eastern United States, mainly east of the Appalachians, from Massachusetts to northern Florida. It blooms in late summer, producing large purple flower clusters that make it easy to spot growing in ditches and other moist soils from Zones 5 to 9. Read the profile now » and consider planting ironweed in your garden where it will attract birds and butterflies.
Exotic Fruits & Nuts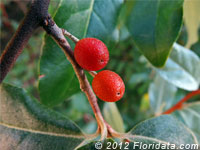 These beautiful and semi-tasty fruits are the reason why the Russian olive (Elaeagnus angustifolia) is considered a noxious weed in many states. Birds devour the fruit and then b-bomb the seeds all over the place where many germinate and disrupt the native plant populations. Other members of this genus are in cultivation, one is edible and the other very ornamental. Both are potentially invasive in certain climates so check locally before planting these too:
Among our Plant Profiles is that of the water chestnut (Pachira aquatica) which produces those crunchy white disks found in certain Chinese dishes. Even if you can't grow these where you garden you might enjoy reading about these familiar fruits and foods. Some like water chestnut can even be grown indoors - young water chestnut plants are sold as "lucky money trees". As you browse Floridata's Plant List you'll discover we have profiles of many unusual and exotic fruits - plants that you may not grow but that are fun to know. Here is a sample:
In the Shade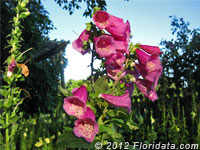 The showy foxgloves (Digitalis purpurea) are hardy perennials that thrive in partial shade. The brilliant blossoms of pink, purple, magenta, yellow and white brighten low-light areas from late spring to early summer. Here's some links to more spring flowering shade tolerant flowers to consider for your garden:
Spring Flowering Bulbs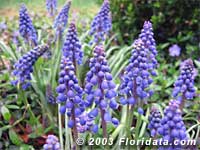 I spied my first bunch of grape hyacinths grape hyacinths blooming on the first day of spring and, despite the cold snap, even a couple of early tulips were blooming already. Read Ray's articles about The Daffodils and history of The Tulips then check out Floridata's profiles of these and other spring-blooming bulbs:
Flowering Plants of Hawaii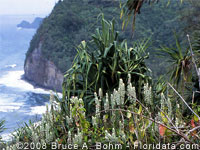 The Hawaiian Islands are home to an array of native plant species that has attracted the attention of botanists, naturalists, horticulturists and world travelers ever since Europeans first visited the islands near the end of the 18th century. Read more »
You'll find more links on our Articles and Resources page.
Welcome to our New Site!
All of our articles and resource pages can be accessed from the Articles and Resources link is in the Site Menu at the upper right hand corner of each page. Some of the pages in our archive will be temporarily unavailable until they are reformatted and re-posted here on the new site. Sorry for the inconvenience.