April 27, 2016
I'm visiting the Great Smokey Mountains this week and it's incredible! The flowering dogwoods are just about finished blooming but the cucumber trees (Magnolia acuminata) and bigleaf magnolias (Magnolia acuminata) are in full bloom as are acres of Carolina allspice (Calycanthus floridus) shrubs growing along the creeks! We'll be posting more wildflower profiles soon. Please share Floridata with your friends and be good and grow. Jack
New Plant Profile
Our newest plant profile is of another Prunus (the stone fruits, like cherries and plums) species. Purple sand cherry (Prunus x cistena) is a woody shrub or small tree with reddish-purple foliage that is often planted in home landscapes. In spring fragrant pink flowers are produced at the same time the leaves appear. Purple sand cherry is popular for use in home landscapes in USDA Zones 3-8 in foundation plantings, mixed hedges and specimens.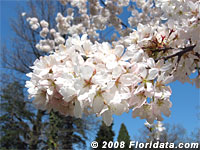 Some of the showiest spring-blooming ornamental shrubs and trees are Prunus species. One of the most famous is the Yoshino cherry (Prunus x yedoensis) that is widely planted, including in Washington, D.C. which is famous for the springtime spectacle created by this and other flowering cherry species.
These Prunus species are American natives that also produce showy flowers at this time of year:
Flowering Groundcovers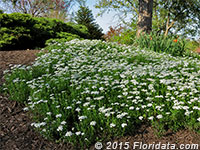 Evergreen candytuft (Iberis sempervirens) is a low-growing semi-woody subshrub that blooms at this time of year. This handsome evergreen makes and attractive groundcover even when not in bloom. More showy species that are used as groundcovers:
Container Woodies
Often sold as tiny living Christmas trees during the holidays the dwarf Alberta spruce (Picea glauca var. albertiana) makes a very nice container plant at any time of the year. Read more about this cute little conifer in its newly updated Profile. Here are a few more woody shrubs that grow well in pots and other containers:
Berries for Birds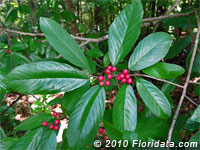 This deciduous shrub or small tree is native to much of the eastern half of the United States. At this time of year it become very showy as the red fruits ripen. Also called Indian cherry (Rhamnus caroliniana) is a fine species for woodland and wildlife gardens. Click to download a large version (800x600) of this image.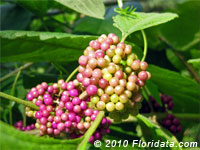 These American beautyberries (Callicarpa americana) are just beginning to ripen. Clusters of berries form at each leaf node and ripen from the bottom of the stem to the tip. These are just beginning to ripen, turning from green to (ultimately) a vivid metallic purple. Click to download a large version (800x600) of these beautiful berries. Here is a short list of other berry-bearing species (or visit the Master Plant List with the "bird" filter set to see even more):
Spring Flowers!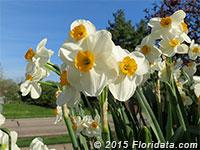 The paperwhite daffodils (Narcissus spp.) are in bloom here in the Cincinnati area at mid-spring. For more on spring flowering bulbs, read Ray's articles about The Daffodils and history of The Tulips then check out Floridata's profiles of these and other spring-blooming favorites:
Hummingbird Vines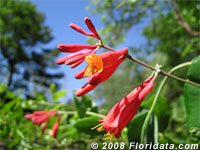 The hummingbirds love native American coral honeysuckle vine - especially at this time of year when its beautiful blossoms burst forth and they line up to sip its delicious nectar. Technically they don't actually line up as much as wage furious battles over which hummer will have exclusive feeding rights to the flowers! Hummingbirds don't seem to share very well. Read about the coral honeysuckle (Lonicera sempervirens) and download large versions of this and other images.
More vines that will attract hummingbirds to your garden: