October 10, 2015
Beautiful autumn weather has me out digging up fern leaf yarrow and black-eyed Susans from a friends garden so I can plant them behind my Mom's condo where there really isn't any need or room for them. It's un-necessary effort, but they will look pretty there and my gardening urges are satisfied. I hope you're enjoying nice fall weather were you are too and that you'll visit us often - and bring your friends. Get out and garden and be good and grow. Jack
Sasanquas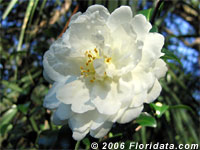 This white flowered sasanqua (Camellia sasanqua) is a popular cultivar called 'White Snow ( is is 'Mine-no-yuki' in Japan where it was developed). I have a small grove of them at my place in North Florida that come into bloom around this time of year. Click here to download and enjoy 'White Snow' on your desktop.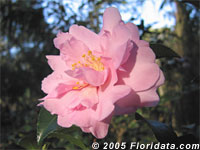 At around the same time, the 'Pink Snow' sasanquas are also blooming! I have them planted beneath the canopy of a live oak tree where they probably get more shade than they like, but smother themselves in flowers anyway. The sasanqua camellias bloom in autumn and early winter, while varieties of their more famous relatives, the japonica camellias (Camellia japonica), bloom winter to early spring. Click here to download.
New Plant Profile!
Steve harvested several kinds of (Vigna unguiculata) last week and sent us pictures and a profile of these southern staples. This species goes by many common names: cowpea, southern pea, black-eyed pea, Jerusalem pea, field pea, yard-long bean, asparagus bean, etc, depending on subspecies and variety. They are drought tolerant, grow in poor sandy soils and like hot weather. Read more » about this important species, an important forage and food crop in warmer climates around the world (USDA Zones 5-10).
Newest Plant Profiles
Spring Flowering Bulbs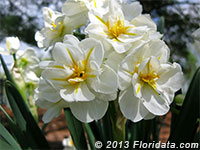 These are 'Sir Winston Churchill' daffodils. Plant spring flowering bulbs like tulips and hyacinths are planted in the fall. Those living in the Deep South and similar warm climates have best success with the daffodils (Narcissus spp., includes jonquils, narcissus, etc.). Read the article and then check out Floridata's Narcissus spp. Profile.
Southern Favorites
The orchid cactus (Epiphyllum spp.) is a tropical epiphyte whose genus is comprised of more than a dozen species and hundreds of hybrids. At my place in Tallahassee, Fl (Zone 8), I had one growing outdoors on the porch. It sheltered indoors during hard freezes but otherwise took care of itself. I miss my orchid cactus (it's found a good home growing down the side of a friend's barn).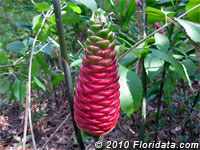 A favorite pass-along plant in The South and other warm climate regions is the pinecone ginger (Zingiber zerumbet), called awapuhi in Hawaii). It is known around the world as the "shampoo ginger" for the milky substance in the cones - it is actually used as a shampoo in Asia and Hawaii, and as an ingredient in several commercial shampoos.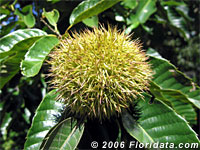 The Spanish chestnuts (Castanea sativa are ripe and ready to eat around this time of year. A friend gave me a bagful of nuts with the spine husks already removed. Then all I had to do was to score each with a knife and then steam them for 30 minutes. They were delicious - maybe even better than roasted! Click here to download a large version of this image.
Welcome to our New Site!
All of our articles and resource pages can be accessed from the Articles and Resources link is in the Site Menu at the upper right hand corner of each page. Some of the pages in our archive will be temporarily unavailable until they are reformatted and re-posted here on the new site. Sorry for the inconvenience.