July 24, 2016
I read the sad news (at CNN.com) that the beautiful white oak (Quercus alba) tree from the movie "Shawshank Redemption" was felled by high winds last week. That's one of my favorite trees in one of my favorite movies. RIP Shawshank oak! Please visit Floridata often, tell your friends about us and be good and grow. Jack
New Plant Profile
Have you ever bought a tiny souvenir palm in-a-box on your Florida vacations? Have you ever received a living plant arrangement that included a tiny palm? If you have then you know the parlor palm (Chamaedorea elegans), the newest addition to Floridata's Plant Encyclopedia. Parlor palm is native to Central American where it inhabits the shady understory of dense rain forests and can grow to 10 feet in height (container grown palms can grow to 3 or 4 feet indoors). Read more about this delightful small palm that makes an attractive addition to shady gardens in Zones 9-11 and in containers almost everywhere.
More Palms
An extended family - no, a clan! - of armadillos has established itself beneath a beautiful planting of needle palm (Rhapidophyllum hystrix) that is just out my window. I hate armadillos because they're constantly digging up the flower beds and lawn. I think I'll trim off the lower leaves of the palms leaving the vermin exposed and vulnerable to the same local predators (coyotes, raccoons, bobcats, etc.) that ate my ducks (click for a duck picture). BTW, it's OK to despise those of God's creatures that aren't native to your area (like armadillos).
Summer Bulbs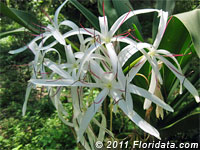 The grand crinum lily (Crinum asiaticum) is a huge plant that produces gorgeous clusters of fragrant blossoms at this time of year. Download a large version of grand crinum lily blossoms to display on your desktop and check out more summer blooming bulbs in this list:
Tropical Beauties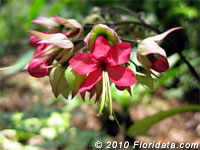 I pinched a piece of this tropical vine when I was in Orlando a few years ago. The glorybower or bleeding heart vine (Clerodendrum thomsoniae), as it is also commonly called, can't take our Zone 8 freezes in the winter so I grow it in a pot. It was hit by last winters record cold snap and I thought it was dead for sure. The appearance of a green shoot in April was a surprise and I'm impressed that it's recovered quickly and began blooming last week. Click to download a large version (800x600) of this tropical beauty with the gory name (it's strange that a beautiful flower should inspire an association with a traumatized body part?).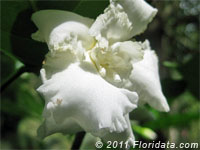 Crepe jasmine (Tabernaemontana divaricata) is a tender evergreen shrub with fragrant white blossoms. I have one in my Zone 8 garden where it freezes back to the roots each winter but always returns in the spring. For more than a decade it has never bloomed. Until this year! I moved it to a sunnier place last fall. I regularly watered it and feed it with liquid fertilizer and now - flowers at last! Download a large version of the crepe jasmine.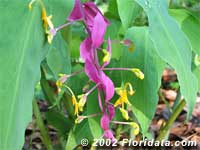 The dancing ladies ginger (Globba winitii) in my garden down in North Florida blooms at this time of year. It's really pretty with colorful dangly blossoms that "dance" in the breeze and grows well in shady situations. Member of the ginger family, Zingiberaceae, are largely tropical and sub-tropical species and many like these in the following list we enjoy in our gardens and in our food:
For the Butterflies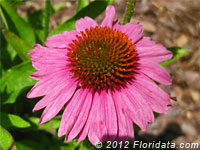 Most of the purple coneflower (Echinacea purpurea) growing around here in Greater Cincinnati has bloomed, reached its peak and the flowers fading. The species produces somewhat large plants with tall-stemmed flowers but cultivars with more compact plants are now available. The photo is of the cultivar 'Crazy Pink' which produces plants more suited to smaller gardens. Download large versions of this and other images from the Purple Coneflower Profile image gallery.
Flowering Plants of Hawaii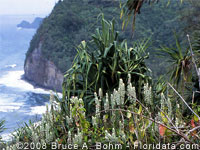 The Hawaiian Islands are home to an array of native plant species that has attracted the attention of botanists, naturalists, horticulturists and world travelers ever since Europeans first visited the islands near the end of the 18th century. Read more »